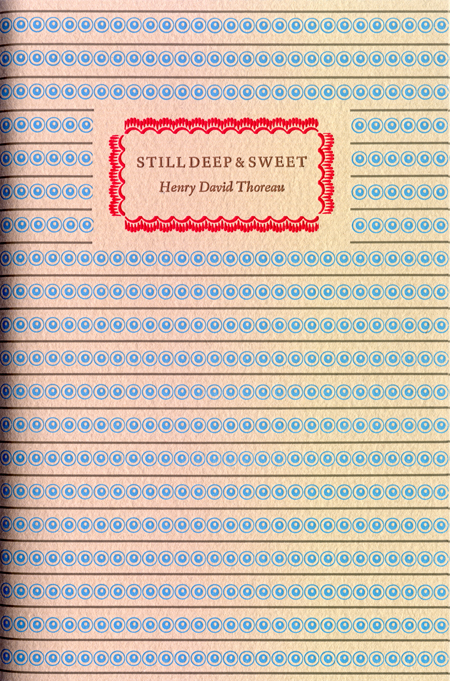 Still Deep & Sweet by Henry David Thoreau
In the spring of 1856, Henry David Thoreau immersed himself in the collection of sap and the production of maple sugar, recording his observations in his journal. This limited-edition letterpress book collects Thoreau's thoughts on maple sugaring and adds to them an afterword by the poet Peter Sanger and two illustrations by J.J. Steeves.
This book was composed in Linotype Fairfield, with Russell Maret's Baker capitals, and printed from the metal on a Vandercook proof press. J.J. Steeves's illustration was printed from a photopolymer plate. The regular edition was printed on Stella Text, a cotton sheet originally milled by Turners Falls Paper for Harold Kyle. They were sewn into a paper cover and enfolded in a decorative wrapper. All aspects of the production of this edition were undertaken by Andrew Steeves. Limited edition of 100 copies.
32 pages. Small octavo.
PLEASE NOTE: A deluxe edition will also be available later this spring. Sixteen lettered copies were printed on dampened Old Masters paper, a sheet handmade at the Saint Armand mill in Montreal. In this edition the illustration and endpapers will be hand-coloured by the artist. They will be bound in full leather by Katherine Victoria Taylor of Halifax. Price to be announced.
$70.00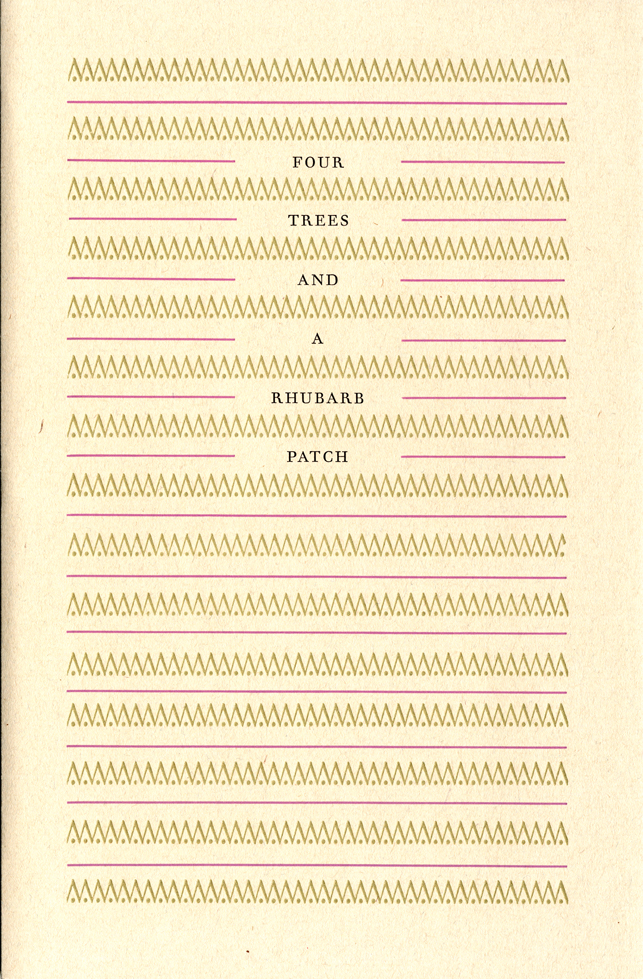 Four Trees and a Rhubarb Patch by Andrew Steeves



Andrew Steeves is a writer, editor, typographer, letterpress printer and literary publisher, and one of the co-founders (with Gary Dunfield) of Gaspereau Press. He has won over 50 citations for excellence in Canadian book design from the Alcuin Society. His essay collection Smoke Proofs: Essays on Literary Publishing, Printing and Typography appeared in 2014.

$30.00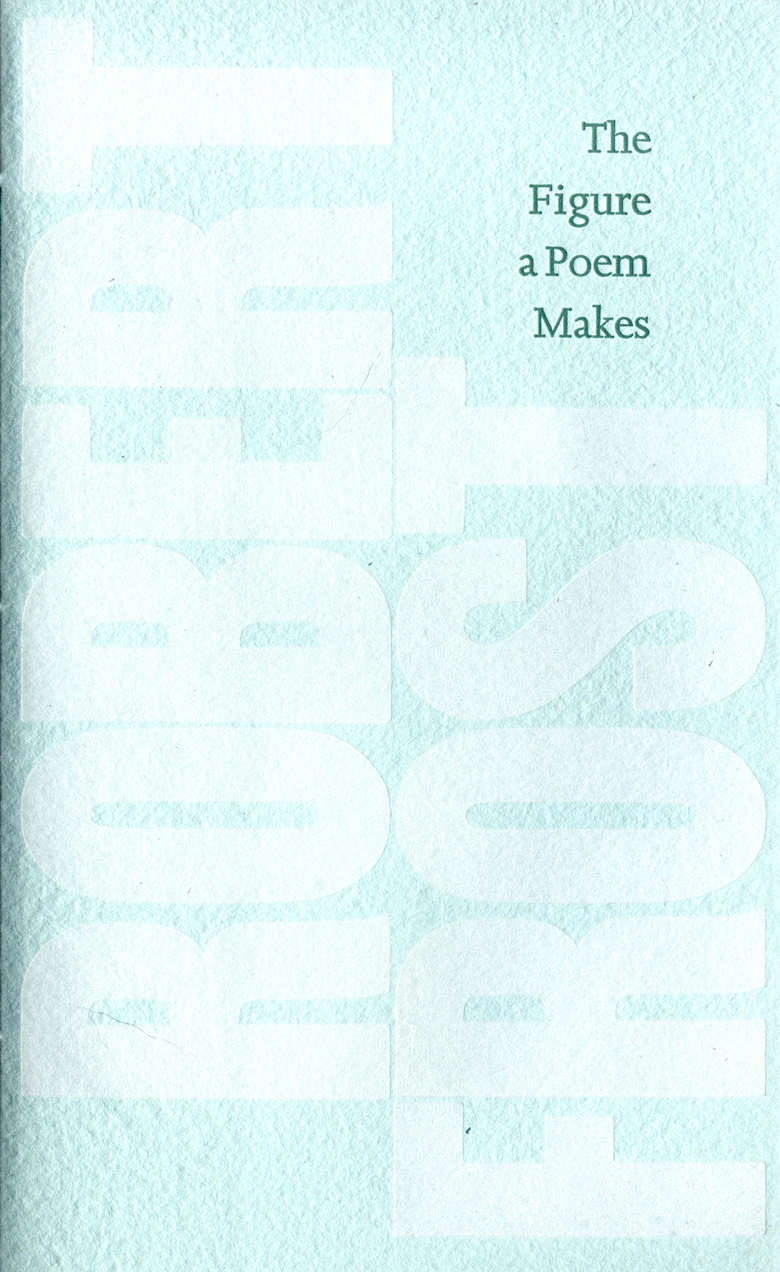 The Figure a Poem Makes by Robert Frost

In his short 1939 essay 'œThe Figure a Poem Makes,' the American poet Robert Frost is at his plucky best, offering the reader equal measures of both terse New-England matter-of-factness and slippery riddling on the subject of writing: 'œthe straight crookedness of a good walking stick.' Frequently mined for its pithy lines, this essay is one of Frost's most concise commentaries on the elusive nature of his craft.

Production Notes: The text was composed from fonts of Monotype Joanna and printed on a Vandercook proof press. The sheet was folded to make 16 pages, 5 by 8.25 inches, and sewn into a paper wrapper. The text paper is Mohawk Superfine. The wrapper paper was made by the Saint Armand paper mill, Montreal, Quebec. The edition is limited to 120 copies. This book was handmade by Andrew Steeves.

Robert Frost (1874–1963) is one of America's best known poets of the twentieth century. He was also a failed poultry farmer and, later, Poet Laureate of Vermont.

$30.00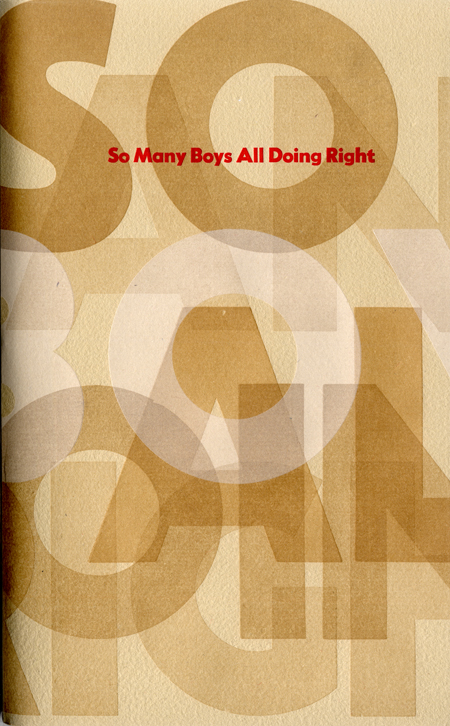 So Many Boys All Doing Right by Sean Howard

Captain Charles Hamilton Sorley died on October 13, 1915, shot by a sniper while preparing to lead his men 'over the top' at the Battle of Loos in France. Aged only 20, he left behind a small number of posthumously published poems and a larger volume of remarkable letters, selected, introduced and edited by his parents. In this book, poet and essayist Sean Howard pays tribute to a writer esteemed by Robert Graves as 'one of the three poets of importance' along with Wilfred Owen and Isaac Rosenberg 'œkilled during the war.'

This book was handprinted on a letterpress in a limited edition of 150 copies. The text of this book was composed in Linotype Trump Medieval and printed on a Vandercook proof press. The text paper is Mohawk Superfine; the wrapper paper is Saint Armand Old Masters. Dyan Hatanaka cut the illustration in linoleum. The book was edited, designed, typeset, printed & bound by Andrew Steeves at Gaspereau Press.

Sean Howard is the author of two collections of poetry, Local Calls (2009) and Incitements (2011), and a work that mixes prose and poetry, The Photographer's Last Picture (2016). As well as appearing in numerous literary journals, his work has been featured in The Best Canadian Poetry in English in both 2011 and 2014. Howard lives in Main-á-Dieu, Cape Breton, and is an adjunct professor of political science at Cape Breton University.

$75.00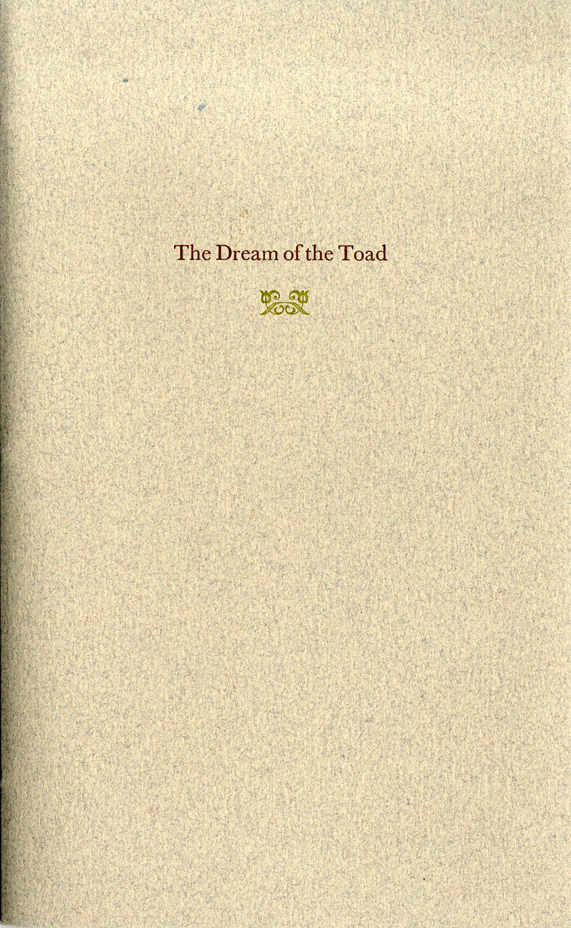 The Dream of the Toad
by Henry David Thoreau

This 12 page chapbook was printed letterpress in four colour son Mohawk Superfine paper and sewn into a paper wrapper. The type was hand composed from fonts of Monotype Baskerville with Linotype ornaments. The operations were carried out by Andrew steeves in the early spring of 2017.

$25.00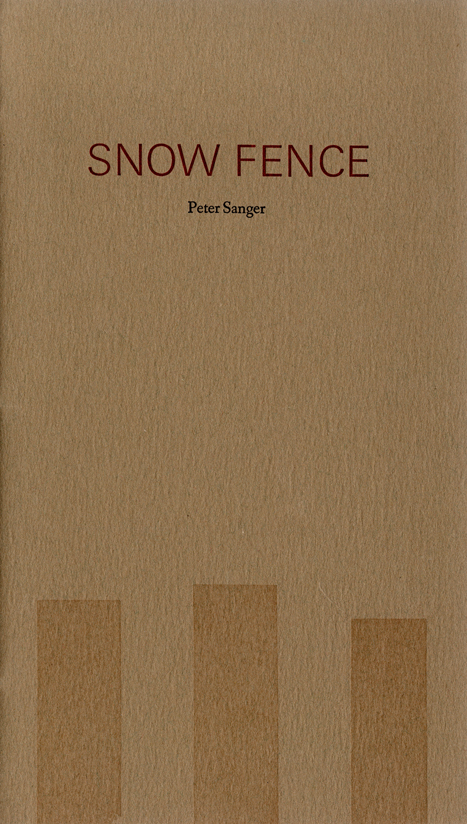 Snow Fence by Peter Sanger

Eight pages printed in three colours on Saint-Gilles handmade paper. Sewn into Saint Armand ˜Canal paper cover printed in three colours. Composed in Linotype Fairfield in August 2016

$25.00

Glenn Goluska in Toronto
by Andrew Steeves

(Out of Print)

Born in Chicago, Glenn Goluska (1947–2011) studied modern languages at the University of Toronto. After establishing his reputation typesetting books at Toronto's infamous Coach House Press in the late 1970s, Goluska went on to found his own letterpress imprints (Imprimerie Dromadaire and Nightshade Press) and to design for both the Canadian Centre for Architecture and McGill-Queen's University Press in Montreal. In 2011, he was awarded the Alcuin Society of Canada's Robert R. Reid Award for his outstanding contribution to the book arts in Canada. His Linotype, press and type are now employed by Andrew Steeves at Gaspereau Press. 2016

$75.00