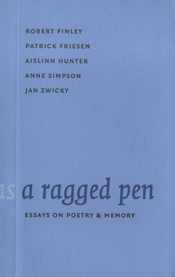 [ Large Cover ]
[ Add to Cart ]
A Ragged Pen: Essays on Poetry & Memory

Jan Zwicky, Robert Finley, Patrick Friesen, Aislinn Hunter, Anne Simpson


2006 / Essays / $22.95
9781554470303 / Trade paper / 96 pp
A Ragged Pen brings to the page five essays on memory. First delivered in Vancouver in the spring of 2005, these talks—by Robert Finley, Patrick Friesen, Aislinn Hunter, Anne Simpson and Jan Zwicky—examine the narrative challenges, lyric energy and questions of verity that surround the subject of memory in a creative context.

Finley's essay searches out appropriate, genuine voices for memories. Comparing photo narrative projects, his own and a friend's, he proposes a form of storytelling that incorporates both memory and creation, a dialogue that speaks to, rather than for, the past. Within the discussion of narrative Zwicky posits a distinction between lyric and narrative treatments of memories, what each accepts about and tries to do with what memory delivers, and whether a difference in the degree of verity is part of this distinction. Hunter picks up the thread of verity and examines the discrepancy between seeing and imagining, the notion of "real" and the power of memory, drawing on the work of Borges, Seamus Heaney and recent science that calls into question commonly held perceptions of truth. Friesen begins with a childhood memory he suspects may be an invention, and opens onto the role of longing in memory and in poetry, challenging the assumption of past experience in longing, arguing for a note of loss in every new experience, a longing for what has never been. Simpson uses a myth of longing, that of Orpheus and Eurydice, to dig beneath metaphor, bringing new ideas and influences to the role of metaphor in social interactions and artistic endeavours.

Together these essays make fascinating crossovers and offer fresh insight on memory and art. A Ragged Pen is a valuable new contribution to the study of poetics and narrative philosophy.