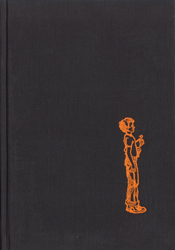 [ Large Image ]
Pie Tree Press: Memories from the Composing Room Floor

Jim Rimmer


2008 / Memoir / $59.95
9781554470624 / Hardcover / 128 pp
Edition is out of print
A new and expanded trade edition of Jim Rimmer's letterpress limited-edition original makes available the autobiography of this gifted type designer and private-press printer.

Beginning with his less than shining early academic career, Rimmer recounts his first experiences setting type at Vancouver Technical High School and leaving school after grade ten for a six-year apprenticeship in the composing room at J.W. Boyd's in the 1950s. With stories about the colourful characters who inhabit the printing trade and his alternately calamitous and successful attempts at refurbishing printing and typecasting machinery, Rimmer revels in the influences and misadventures that have shaped his life.

After several years in newspaper composing rooms, including the Williams Lake Tribune, Ladner Optimist and The Columbian in New Westminster, Rimmer left the printing business to train as a graphic designer. Following a relatively brief stint with a Vancouver firm he realized the advantages of a freelance career and set out on his own. Along the way he acquired the makings of a private press and typefoundry and upon his retirement, Pie Tree was born.

Pie Tree Press contains reproductions of Rimmer's illustrations and presswork, as well as samples of his original metal and digital type designs. The book also includes photographs and detailed descriptions of Rimmer's unique typecutting processes and a new chapter on his experiences with Giampa Textware creating digital fonts in the 1980s and 90s.

"This book came about because some people urged me to document the work I have been doing over the past six decades," says Rimmer. "I also wanted to make a record of the typecutting process at my home and workshop, and to make a mention of the few books I have done. I also wanted to thank my mother and father. I believe who and what we are is due directly to the things our parents equip us with in bringing us into the world. My mother was a bookbinder and my father could draw and fix anything that needed it. I never took the time to thank them when they were alive. This little book has been a joy for me to do in every part of its making. The writing is not the work of an educated man, but it's how I feel about the fortunate life I've lived. I've dedicated it to my wife, Alberta. She never once flinched as each piece of printing equipment struggled down the drive and into the shop."

This book is a trade hardcover. The text will be typeset in Amethyst and printed offset on wove-finish paper making (estimated) 160 pages trimmed to 7 × 10 inches. The sheets will be Smyth sewn, case bound in paper-covered boards and enfolded in a letterpress-printed jacket. The book includes over 30 illustrations.