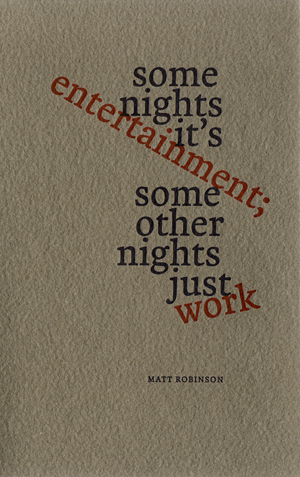 [ Large Cover ]
[ Add to Cart ]
Event:
HALIFAX, NS
1 April at 2:00 P.M.
Matt Robinson will be reading at the National Poetry Month event at the Halifax Central Library.


Some Nights It's Entertainment; Some Other Nights Just Work

matt robinson


2016 / Poetry / $17.95
9781554471638 / Trade paper / 48 pp
Matt Robinson is in the best sense a poet of the domestic, his intense curiosity animating a renewed engagement with things familiarthe intellectual life of the family dog, a favourite pair of jeans, sports, local landmarks and relationships. In these poems, Robinson approaches each subject with vivid imagery and the intellectual terseness of a logical proposition, playfully reminding us of the uneven arithmetic that invigorates poetic language.



Other Books by this Author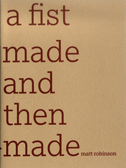 a fist made and then un-made

matt robinson

2014 / Poetry / $4.95 CAN / $4.95 US
9781554471317 / Pamphlet