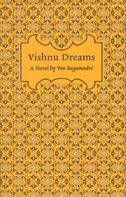 [ Large Cover ]
[ Add to Cart ]
Vishnu Dreams

Ven Begamudré


2008 / Fiction / $24.95
9781554470570 / Trade paper / 160 pp
Ven Begamudré's latest work of fiction combines Hindu mythology with the story of a family. Through the veil of Vishnu's unions with Lakshmi and his incarnation in the tale of Manu and the fish, the novel portrays a pair of siblings as they navigate 1960s North American culture under the weight of their emotionally abusive father and ambitious mother. By day Subhas and Durga master the logistics of junior highschool in Bethlehem, Pennsylvania, while at night they watch the disintegration of their parents' marriage.

Following the breakup, and in the wake of an unfortunate misunderstanding between the two siblings, Durga moves to Canada with their mother, while Subhas remains in the United States with their father. Now in her late teens and training as part of the Seaforth Highlanders reserve regiment in Vancouver, Durga struggles to find her way in a place she loves, while back in Pennsylvania, Subhas works a part-time job at a gas station during the oil crisis.

"About 1983 I made fictional sketches about a young woman named Jo who joined the army reserve as a clerk. Her best friends at a Vancouver high school included Meg, a vain debutante; Beth, a shy pianist with a terminal illness; and Amy, a hot-headed cowgirl from the interior of BC. They were sisters in spirit alone and none had the last name of March. Soon I forgot about these characters—much to the relief, no doubt, of Louisa May Alcott, whose novel Little Women had enchanted me during a visit to my home state in South India. Then, in the early 1990s, Carol Shields' short story 'Soup du Jour' inspired me to write and publish a long story called "Indian Cookery," which brought to life an army major named Durga Kumar Mackenzie. To avoid worrying about her upcoming tour of duty with UNPROFOR in the former Yugoslavia, Durga thinks about an affair that her married sister is having with an unmarried doctor. Finally, one day in the late 1990s, Durga tapped me on the shoulder and said, 'Ven, I never had a sister. I had a brother. Here's what happened in our teens, when we moved from Canada to the States during the Vietnam War. Are you listening or what?'"

This book is a smyth-sewn paperback. The text is typeset in Rialto and printed offset on laid-finish paper making (estimated) 160 pages trimmed to 4.5 × 7 inches, bound into a paper cover and enfolded in an offset-printed jacket.