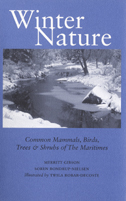 [ Large Cover ]
[ Add to Cart ]
Winter Nature: Common Mammals, Birds, Trees and Shrubs of the Maritimes

Merritt Gibson, Soren Bondrup-Nielsen, Twila Robar-DeCoste


2008 / Nature / $27.95
9781554470594 / Trade paper / 224 pp
Though often associated with hibernation—for bears and humans alike—winter can in fact be a time of observation and discovery in the outdoors. Winter Nature provides the interested walker, skier or snowshoer with a guide to the mammals, birds, trees and shrubs found in the Maritime provinces during the winter months.

With an overview on temperature, sunlight, snowfall and seasonal adaptations, notes toward identification, and tips for differentiating between similar species, biologists and nature enthusiasts Merritt Gibson and Soren Bondrup-Nielsen share their passion for the outdoors and the biodiversity of the Maritime region.

With a section on mammal tracks, suggestions for creating and stocking birdfeeders, and an introduction to plant structure, Winter Nature combines Maritime natural history, environmental awareness and outdoor education. The book also includes suggestions for winter activities, as well as a list of reference guides and an index for easy navigation of each species group. Each species entry is accompanied by an original ink drawing by Nova Scotia artist Twila Robar-DeCoste.

"During the winter of 1998 I lived in a cabin near the Hardanger Glacier in Norway," says Bondrup-Nielsen. "Every day I would go skiing and then write. I wrote about winter ecology and about my own adventures and encounters with winter primarily in northern Canada. The account of these adventures became my first book, Winter on Diamond."

Gibson adds: "I was an enthusiastic cross-country skier, going skiing many evenings after work and taking much longer trips on weekends. I published the first edition of Winter Nature Notes (Lancelot Press) in 1980 as a guide for use by cross-country skiers in Nova Scotia. The book was well received."

A few years ago the two met on Gibson's daily walk past Bondrup-Nielsen's house. Gibson mentioned that he wanted to revise Winter Nature Notes and that perhaps Bondrup-Nielsen could work on the mammal section and add some new information on winter ecology as introductory material to the various sections. Over the next while the two worked on revising and adding material to the original book, with additional information on the interesting adaptations by animals and plants for surviving winter. This new edition is intended for use by all Maritimers who enjoy the outdoors in winter.