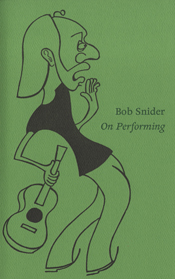 [ Large Cover ]
[ Add to Cart ]
On Performing

Bob Snider


2007 / Performing Arts / $17.95
9781554470426 / Trade paper / 64 pp
In his follow-up to On Songwriting (GP, 2005), acclaimed musician Bob Snider tackles the subject of performing. At turns self-deprecating and jokingly grandiose, Snider provides tips for effective performing and stories from the trenches. With thoughts on everything from stagefright, interruptions, timing and humour, to venues, bookings, organization and encores, Snider's prose is itself a lesson on performance.

The book begins by placing the reader in a hypothetical boot camp. As drill sergeant, Snider then proceeds to run through the basics of preparing material for performance. The tone is dramatic, but the advice solid. With passages on stage etiquette, making the best of an unfavourable crowd, uniting an audience, mastering the delivery of a joke and organizing your time on stage, On Performing offers valuable insight gleaned from personal experience. Central to Snider's theory is his belief in the relationship between audience and performer, in the sense of trust, control and generosity that fosters unity among audience members, and the importance of genuine connection between audience and performer.

With accompanying illustrations by the author, On Performing is an excellent source of inspiration and know-how for the seasoned performer and the tongue-tied alike.

Other Books by this Author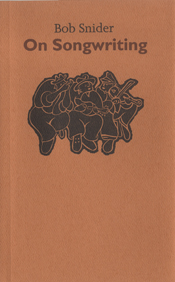 On Songwriting

Bob Snider

2005 / Music / Songwriting / $19.95 CAN
9781554470129 / Trade paper / 96 pp