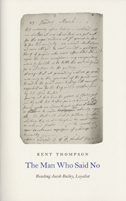 [ Large Cover ]
[ Add to Cart ]
The Man Who Said No: Reading Jacob Bailey, Loyalist

Kent Thompson


2008 / Biography / $29.95
9781554470556 / Trade paper / 288 pp
In this unusual biography of an unusual man, Kent Thompson tells the story of Jacob Bailey, a Harvard graduate, Anglican clergyman, dedicated diarist, satirical poet and eventual Loyalist. Born in Rowley, Massachusetts in 1731, Bailey graduated from Harvard last in his class (in the days when the list was arranged by family wealth). He taught school in less than pleasant conditions in New Hampshire before embarking on a life-changing trip to London in 1760 to receive ordination as an Anglican minister. On his return, wearing obvious ties to the British Empire and its church, Bailey found himself subject to violence and ridicule as the American Revolution gathered steam. In 1782, he fled with his family to Nova Scotia, and lived the rest of his life in the town of Annapolis Royal.

At once leary of women, enamoured of luxury and literature, poor and sharp-witted, Bailey was a man apparently at odds with himself. Using contemporaries Tobias Smollett and Lawrence Sterne as points of reference for Baileys character and literary interests, Thompson opens a cross-section in which his subjects seemingly disparate religious, cultural and social identities align.

Affable and informative, Thompsons biography sidesteps a more literal account, instead pursuing the quirks in Baileys character, the mysterious vengeance of two enemies, and the context for Baileys rather racy satires. Part social history, part literary adventure, The Man Who Said No delights in the foibles of subject and author alike.

In the early spring of 2001, says Thompson, a plain brown cardboard box arrived at the ODell Museum, Annapolis Royal.It was not exactly a surprise; arrangements had been made.It had been sent from British Columbia by a descendant of the Rev. Jacob Bailey and contained, among other things, letters from one of his descendants, Aunt Minnie, in the 1920s to a Professor Baker in the United States concerning Jacob Baileys journals.Aunt Minnie wanted Baker to write a biography of Jacob Bailey.Other items included Jacob Baileys letterbook of 1755, as well as moral stories for girls and a surprisingly rude poem entitled The Corn-Husking Bee.Perhaps Baileys greatest value now is as a diarist.He lived in tumultuous times, and he kept serious journals all his life, and most of them can be found in the Provincial Archives of Nova Scotia.But a couple of key journals slipped away and did not re-appear until 2001, when they they arrived in the box from British Columbia.These missing journals cover the time from his departure from Massachusetts in December 1759 to sail to Britain, and his time in London before and after his ordination as an Anglican cleric.He also evidently pursued travel-writing and fiction in his journals, and it is not always clear when he was writing which. Some of this material must have seemed shocking to his first biographer, William Bartlet, in 1853, and scandalous even to Professor Baker in 1929.But Baileys writing gives us the man and his times and both are more revealing than the reader might have presumed.

Other Books by this Author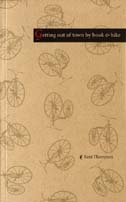 Getting Out of Town by Book and Bike

Kent Thompson

2001 / Reading & books / $18.95 CAN / $18.95 US
9781894031240 / Trade paper