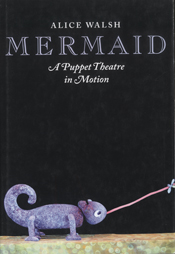 [ Large Cover ]
[ Add to Cart ]
Mermaid: A Puppet Theatre in Motion

Alice Walsh


2005 / History / $31.95
9781894031851 / Trade paper / 144 pp
First established in response to the need for live theatre in rural areas, Mermaid Theatre—based in Windsor, Nova Scotia—swiftly rose to international acclaim. Author Alice Walsh uses Mermaid's productions, from The Happy Prince to Guess How Much I Love You, to tell the story of the company's evolution in the history of Canadian theatre. Walsh describes the first steps taken by its founders and provides an extensive look at the development of each production, as well as the creative trends and decisions that have contributed to Mermaid's stellar reputation amongst children, parents, educators and directors.

Founded in 1972 by Evelyn Garbary, Lee Lewis and Tom Miller, Mermaid Theatre, over the course of 30 years, has incorporated the work of many actors, collaborating authors, educators, youth, reviewers, designers and audiences worldwide. Beginning with the group's first seasons touring Nova Scotia with adaptations of fairy tales and fables, Walsh tells the story of Mermaid's development, going behind the scenes and into the audiences, capturing the spirit of its success.

In the early 1970s, Mermaid's dramatizations of Mi'kmaq legends laid the foundation for its innovative design. This era, remembered by many of today's parents, is described from the ground up. Walsh brings us into the company's workshop and its early experiments with the masks and giant puppets that would become synonymous with the theatre's name. What followed was a boldly creative approach to local literature, which integrated an astonishing variety of traditions, including Bunraku, Kathakali, black light, collage and mummers.

Walsh takes a critical look at the personalities and influences that have shaped Mermaid's evolving style and management as a company. Highlighting key players—Garbary, Lewis and Miller, along with Jim Morrow, Graham Whitehead, Chris Heide, Stephen Naylor and others—she examines the theatre's growth from a garage in Wolfville to the current multi-storeyed headquarters and full-time staff based in Windsor. For decades now, the company's adventurous and amibitous approach to children's theatre has proved successful both on stage and off, with hits like The Very Hungry Caterpillar, When Dinosaurs Dine by Moonlight, Borrowed Black, Gulliver's Travels, Peter & the Wolf and Sam Slick.

Mermaid provides insight into the business and politics of managing a theatre company, as well as the creative energy and raw materials involved in building and touring productions around the world. In 30 years, Mermaid has become known for its dramatizations of fairy tales, legends, contemporary literature, and most recently, stories for very young audiences. Recreating productions from their inception, through the design and rehearsal phases, to opening night at children's festivals, cultural exchanges and school gymnasiums at home and abroad, Walsh captures the magic of Mermaid. Photographs, quotes and reviews, coupled with Walsh's clarity and comprehensive telling, bring the theatre's history of inspiring designs to life on the page.

This book measures 5.75 x 8.5 inches and is a smyth-sewn paperback bound in an offset-printed cover. The text is printed offset on laid paper. Included are 32 pages of black & white and colour photo reproductions.