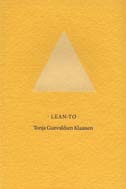 [ Large Cover ]
[ Add to Cart ]
Lean-To

Tonja Gunvaldsen Klaassen


2009 / Poetry / $19.95
9781554470709 / Trade paper / 96 pp
In her third book of poetry, Tonja Gunvaldsen Klaassen writes of places made home, navigating between fixed points of origin and the flotsam that encloses, between the longevity of marriage and parenthood, and the temporary of camping trips, renovations and hospital stays. Across the collection, the poet's lyricism finds a lilt and repetition that firmly pegs while leaving one side open to the unlikely and unexpected.

"Where," Gunvaldsen Klaassen asks, "are the leaps of logic and leaps of faith that come with the constant necessary distractions of life with little kids taking me? Things seem to be always at more than one place at a time. We'd moved from Saskatchewan to Nova Scotia and were lost. I needed some kind of return—a long poem, repetitions, something sustaining although provisional. We bought an old house and moved in; we drove out to sea—or were sometimes driven out by ghosts or neighbours, accidents, invitations, bad luck. I wrote in a tent, I wrote in the car. And thought about the generous, endlessly generative absurdity of marriage (one plus one equals two, and one plus one also equals one). And what if you live in a marriage plus kids? I guess living with mess and emptiness, with daily repetitions that comfort but also drive you crazy, with internal rhymes that unify and imply trouble, living 'in the midst of' is to glimpse home as a (changeable) state of mind and being."

The collection opens with "August after August," a series of fourteen poems based on traditional anniversary gifts (paper, cotton, leather, wood. . . ). The suite is a consideration of domesticity and permanence, sometimes literal in its representations of the gifts in question, more often allusive and abstract.

In a summer of camping trips to Nova Scotia's South Shore, Kejimkujik National Park, and Five Islands, home is defined along more flexible terms of tent poles, clotheslines, tides and bonfires. In sight of galaxy and open ocean, the poet revisits realities too tenuous for the clamour of the household—a lost child, vague uncertainties and moments of sheer directionlessness.

Lean-To concludes with "On Inlet Avenue," a long poem that tells the story of a lengthy home renovation. It is a telling that combines the sounds of the everyday—the scramble of children's voices, song lyrics and half-remembered lines from books—with those of ad hoc repair and the poet's internal frequency amid the sometimes troubling, often zany, preoccupations of creating home.

Winner of the 2010 Atlantic Poetry Prize.

Other Books by this Author

August: An Anniversary Suite

Tonja Gunvaldsen Klaassen

2005 / Poetry / $4.95 CAN
9781894031967 / Pamphlet / 24 pp