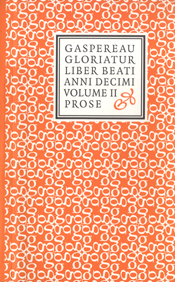 [ Large Cover ]
[ Add to Cart ]
Gaspereau Gloriatur: Book of the Blessed Tenth Year, Vol. 2: Prose

Michael deBeyer, Kate Kennedy


2007 / Prose anthology / $27.95
9781554470396 / Trade paper / 288 pp
Volume two in Gaspereau Presss tenth-anniversary celebration is an anthology of our very best prose. In the last decade, books of fiction, memoir, personal narrative, local and natural history, bibliophilic detective work, philosophy, lectures and essays have been launched from our doors. This anthology brings together excerpts from the finest of those volumes.

Gaspereau Press has had the privilege of publishing an inordinate number of crossover authors, for whom one genre is not enough, and even for whom categories like fiction, non-fiction and poetry have not proved themselves useful means of arranging work into books. Authors like John Terpstra, Don McKay and Peter Sanger have blurred the distinctions between genres in favour of a more accurate artistic vision. Similarly, our fiction list has provided a home for books like Thomas Whartons The Logogryph. Its not a novel or a short-story collection or even a novella. But it was the only Canadian book on last years Dublin Prize shortlist.

Prose titles published at Gaspereau Press have been recognized with several other awards: Don McKays Vis Vis and Jan Zwickys Wisdom & Metaphor were both shortlisted for Governor Generals Awards, John Terpstras The Boys was nominated for the Charles Taylor Prize and the BC Non-fiction Award, Kent Thompsons Getting Out of Town By Book & Bike won the Evelyn Richardson Prize, and Jonathan Campbells Tarcadia won both the Dartmouth Book Award and the Savage First Book Award.

The second volume of Gaspereau Gloriatur includes work by Tim Bowling, Robert Bringhurst, Carol Bruneau, Jonathan Campbell, Susan Haley, Glen Hancock, Sean Johnston, Larry Lynch, Elaine McCluskey, Don McKay, Peter Sanger, John Ralston Saul, Bob Snider, J.J. Steinfeld, John Terpstra, Kent Thompson, Thomas Wharton and Harrison Wright.

Other Books by this Author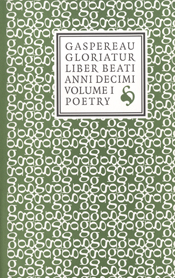 Gaspereau Gloriatur: Book of the Blessed Tenth Year, Vol.1: Poetry

Michael deBeyer, Kate Kennedy

2007 / Poetry / $21.95 CAN / $21.95 US
9781554470389 / Trade paper